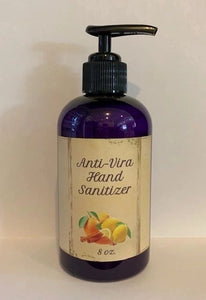 I have used this for many years for the elderly, cancer patients, compromised immune systems and others, to help promote protection against virus',bacteria,fungus with great success. I made this with my daughter in mind while growing up she could not use any regular hand sanitizers because it would cause her hands to get very red and irritated. The alcohol used in this is from grapes to help those with allergies to other alcohols made from corn, wheat, and other sources that can cause irritation.
Ingredients:Organic Aloe vera (carrageenan, citric acid, potassium sorbate), alcohol from grapes, high quality organic essential oils of : Lemon, Ravensara, Kunzea, Orange, Cinnamon, Cassia, Clove.
This is not intended to diagnose, treat, nor cure, and has not been evaluated by the FDA.